Is Corey Seager the Best Rookie Infielder of the Modern Era?
This year's National League MVP will likely be someone from the North Side of Chicago. The Cubs have completely dominated the NL Central, clinching the division title with more than two weeks of the season still remaining. But if their offensive stars, Kris Bryant and Anthony Rizzo, split votes, a rookie may very well walk off with the award for the first time in 15 years.
Other than perennial Cy Young favorite, Clayton Kershaw, Corey Seager is easily the best player on a Dodgers team that, according to Fangraphs, is currently 93.0% to win the NL West this year. If the rookie shortstop is named the league's Most Valuable Player and Rookie of the Year, he would become just the third player ever (joining Boston's Fred Lynn and Seattle's Ichiro Suzuki) to capture both awards in the same season.
Thus, it seems like a pertinent time to look back at some of the sport's top rookies among position players, historically. Several men on this list may have had a few games of experience prior to their respective season profiled below. But all were considered rookies at the time by the league.*
So how does Seager's spectacular year stack up against some of the game's greatest first seasons by non-pitchers? Using Wins Against Replacement (WAR) to rank each player, here are the top 15 since 1900:
15. Frank Robinson, Cincinnati Redlegs, 1956, 6.5 WAR
Frank Robinson could flat out hit. He remains the only player in baseball history to be named the MVP in each league, he won the 1966 Triple Crown and he's 10th all-time in home runs. During his first MLB season in 1956, Robinson led the NL in runs (122), was named a starter in the All Star Game and became the first player to win the Rookie of the Year (in either league) unanimously. Among National Leaguers that year, only Brooklyn's Duke Snider hit more than Robinson's 38 HR and his 143 OPS+ was 32 points better than any other left fielder. His performance helped Cincinnati improve their record by 16 wins over the previous season and they missed the playoffs by just three games.
14. Kenny Lofton, Cleveland Indians, 1992, 6.6 WAR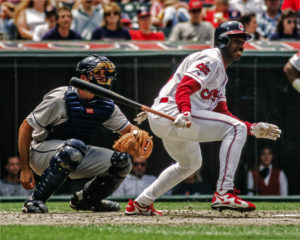 Lofton raced onto the baseball scene in 1992, leading the American League with 66 stolen bases. He also topped all MLB rookies with 96 runs, despite playing on a team that was 11th in the AL in scoring. Overall, Lofton was among the league's top 25 in batting average, on-base percentage, hits, triples and walks. And the Indians' star center fielder was an outstanding defensive player, as well; in the AL that season, only Toronto's Devon White and Baltimore's Cal Ripken accumulated more than Lofton's 2.3 defensive WAR. His well-rounded talents placed him in pretty elite company in '92; the only position players in the league to match or surpass his 6.6 total WAR were Future Hall of Famers, Kirby Puckett (7.1), Frank Thomas (6.9) and Roberto Alomar (6.6).
13. Nomar Garciaparra, Boston Red Sox, 1997, 6.6 WAR
It took "Nomah," as Boston fans called him, just 62 games in AAA (with a 1.101 OPS) for the Red Sox to know he was ready to play at Fenway Park. And he immediately proved them right; Garciaparra was the unanimous choice for American League Rookie of the Year in 1997. The popular shortstop's 209 hits were 16 more than anyone else in the AL and he was among the top five in runs (122), doubles (44), triples (11) and total bases (365). Garciaparra also managed to hit 30 home runs and had 98 runs batted in, which led all MLB rookies. In July, he played in the All-Star Game and at the end of the season, was awarded the Silver Slugger as baseball's best-hitting shortstop.
12. Albert Pujols, St. Louis Cardinals, 2001, 6.6 WAR

In many seasons throughout the sport's history, a stat line that included a 157 OPS+, 37 home runs, 112 runs, 130 RBI and 194 hits would have resulted in a decisive first-place finish as the league's MVP. Unfortunately for Pujols, he posted those numbers when Barry Bonds smashed an MLB-record 73 HR for the San Francisco Giants. Nonetheless, it was still a phenomenal rookie campaign for the Cardinals' slugger. The only reason Pujols isn't ranked higher on this list is because power numbers were inflated across baseball at that time, rendering his stats a bit less impressive than they would be, typically. Case in point: the only three players to finish ahead of Pujols for the National League Most Valuable Player averaged 64.7 homers between them.
11. Corey Seager, Los Angeles Dodgers, 2016, 6.6 WAR (pace)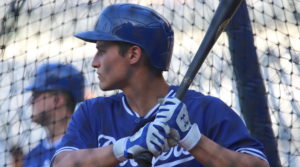 Seager, the younger brother of Mariners' third baseman, Kyle, was the 18th overall pick in a draft that included fellow star shortstops, Carlos Correa and Addison Russell. Though Seager was the last of the three to be promoted to the big leagues, he is putting together a remarkable rookie campaign. In fact, through each of their first 162 games played, he hit more homers (28) than Willie Mays (26), Alex Rodriguez (25), Ken Griffey, Jr. (23) or Hank Aaron (22). This year, the 22-year old leads all MLB shortstops in WAR (6.0), OPS+ (143), hits (179) and total bases (299). Those numbers should place Seager on the short list for league MVP and, depending on how he finishes the 2016 season, could put him in the ballpark, so to speak, for the greatest rookie year by any middle infielder in the sport's history.
10. Ted Williams, Boston Red Sox, 1967, 6.7 WAR
One of the true icons in baseball history, Williams would no doubt have his face etched onto the Mount Rushmore of MLB hitters, if such a thing existed. His career was littered with league-leading statistics and he's one of just two players — along with the Cardinals' Rogers Hornsby — to win baseball's Triple Crown twice. But while his rookie year pales in comparison with the rest of his elite career, it still ranks as one of the best the sport has seen. Williams broke into the majors when he was only 20 years old and immediately fit right in with veteran stars like Joe DiMaggio, Jimmie Foxx and Hank Greenberg. During his first season, he topped the American League with 344 total bases and 145 RBI. Williams also placed among the top five in OPS+ (160), homers (31), hits (185), doubles (44), runs (131) and walks (107).
9. Troy Tulowitzki, Colorado Rockies, 2007, 6.8 WAR

Throughout his time in the majors, Tulowitzki has been known as one of the game's best offensive shortstops. As a rookie in 2007, he hit 24 homers and knocked in 99 runs. Partially due to an inability to remain healthy, Tulo's 104 runs scored and 177 hits that year remain career-bests. But because his batting stats often stand out, few people realize that he is also a very solid player in the field at a key defensive position. During his first season in the league, he led all SS in the majors with a .987 fielding percentage (minimum, 50 games played). Tulowitzki also had 3.8 defensive WAR in '07, the most in all of baseball. To put that into context, only five MLB players have exceeded that figure in a season over the nine years since. And just one of them, Brewers' outfielder, Carlos Gomez, matched Tulowitzki's output of 20 or more homers.
8. Tony Oliva, Minnesota Twins, 1964, 6.8 WAR
Twins' right fielder, Tony Oliva, was about as good a pure hitter as there was during the 1960s. From 1964–1971, he made eight All-Star teams, led the league in hits five times and won three batting titles. And that all began with Oliva's spectacular rookie year, when he topped the AL in batting (.323), hits (217), doubles (43), total bases (374) and runs (109). For good measure, he even chipped in 94 RBI and 12 stolen bases. Impressively, Oliva collected two or more hits in 17 of his first 24 games as a full-time player. Overall, he had an astounding 71 multi-hit games — more than Derek Jeter, Tony Gwynn or Rod Carew ever had in a single season — during his first full year. Oliva's 217 hits in '64 were the most by a rookie between 1928–2000.
7. Mike Piazza, Los Angeles Dodgers, 1993, 7.0 WAR

Mike Piazza was taken with the 1,390th pick of the 1988 MLB Amateur Draft, so he's considered to be a bit of a steal. Though he began his career on a Dodgers team that was tied for the third-fewest runs scored in all of baseball, he had 35 home runs and 112 RBI as a rookie. His 153 OPS+ that season was second in the NL to Barry Bonds. Piazza also led all MLB catchers in hits, homers, runs batted in and batting average, which resulted in the first of his six consecutive (and 10 career) Silver Slugger awards. The 7.0 WAR he posted was the most by any backstop in 10 years (Gary Carter, Montreal, 1983). Among the players he beat out to win the Rookie of the Year was a teammate out of the bullpen named Pedro Martinez.
6. Carlton Fisk, Boston Red Sox, 1972, 7.3 WAR
When recalling Fisk's career, most baseball fans in New England initially think of his game-winning home run in Game 6 of the 1975 World Series. But before his arms "pushed" that ball fair, he put together an incredible rookie campaign three years earlier. During his first season in the majors, Fisk was among the American League's top ten in home runs (22), doubles (28), total bases (246), batting average (.293), on-base percentage (.370) and slugging percentage (.538). Somehow, as a catcher, he even tied for the league lead in triples with nine. In 1972, Fisk won the Rookie of the Year unanimously, finished fourth in the AL MVP voting, appeared in the All-Star Game and took home the only Gold Glove of his 24-year career. Of all the great seasons he put together before being inducted in the Hall of Fame, he never again reached the 7.3 WAR of his rookie year.
5. Fred Lynn, Boston Red Sox, 1975, 7.4 WAR
Boston's magical run in 1975 fell a win short of snapping a championship drought that had stretched back to 1918. And the player most responsible for that team's success was rookie outfielder, Fred Lynn. Though fellow first-year player, and teammate, Jim Rice, also had a big season, his OPS was ultimately 126 points shy of Lynn's. In 145 games, Lynn led the American League in OPS (.967), runs (103) and doubles (47) and was top-five in RBI (105) and total bases (299). Though Fisk's home run was justifiably more memorable, Lynn hit a three-run blast earlier in Game 6 of the '75 Series to initially get the Sox on the board. He made his first of what would be nine straight All-Star Game appearances that year and became the first player in MLB history to win both the Rookie of the Year and Most Valuable Player awards in the same season.
4. Ichiro Suzuki, Seattle Mariners, 2001, 7.7 WAR

In 2001, Ichiro came over from Japan and completely crushed any expectations even the most optimistic of fans may have had for how he'd perform. His 242 hits still ranks among the top-10 season totals in baseball history (he subsequently set the all-time mark with 262 three years later). Ichiro had so many hits, he finished tied for ninth in the American League with 316 total bases, despite hitting only eight home runs (no one else in the top-15 had fewer than 20). He also won the AL batting title with a .350 average and stole a league-leading 56 bases. But as impressive as he was at the plate, Ichiro's most famous moment that year (if not in his career) occurred while he was in the field. In just his eighth big league game, he gunned down Oakland's Terrance Long with one of the best throws you'll ever see. In addition to making the All-Star team, by the end of the year, Ichiro had snagged all of baseball's major awards for non-pitchers: MVP, Rookie of the Year, Gold Glove and Silver Slugger.
3. Dick Allen, Philadelphia Phillies, 1964, 8.8 WAR
During Allen's lone year at AAA, he crushed 33 homers and knocked in 97 runs. The Phillies called him up in late 1963; the following season, he became their full-time third baseman. And he kept on hitting. In his rookie year, Allen led the National League in runs (125), triples (13) and total bases (352), while also knocking 29 balls out of the park. His 162 OPS+ was good for third in the league, ahead of Hank Aaron, Frank Robinson and Roberto Clemente, who were all in their primes. Allen also very nearly carried his team into the playoffs. The Phillies endured a horrible stretch at the end of 1964, winning just two of their final 12 games. During those two weeks, while the rest of his team slumped, Allen hit .429 with a 1.257 OPS; they finished a lone game behind St. Louis for the division crown.
2. "Shoeless" Joe Jackson, Cleveland Naps, 1911, 9.2 WAR
Every baseball historian will tell you that had the White Sox not thrown the 1919 World Series, Jackson would be a shoo-in (sorry) for the Hall of Fame. But what many fans don't know is that his rookie season in 1911 was not only the best year of his career, but it remained the greatest inaugural season of any hitter in baseball for over nine decades. In his first full year with Cleveland, Jackson was second in the AL to Detroit's Ty Cobb (who entered the season having already amassed 959 career hits) in WAR (9.2), OPS+ (193), runs (126), hits (233), doubles (45) and total bases (337). Each of those figures wound up being personal-bests when he was banned from the sport nine years later, as were his rookie batting average (.408), on-base percentage (.468), slugging percentage (.590) and stolen bases (41).
1. Mike Trout, Los Angeles Angels of Anaheim, 2012, 10.8 WAR

In 2012, Angels' outfielder, Mike Trout, nearly matched Lynn and Ichiro by taking home the AL MVP and Rookie of the Year. Though he wound up with 3.6 more WAR than Detroit's Miguel Cabrera, it was hard for voters to overlook the fact that Miggy had won baseball's first Triple Crown in 45 years. Nevertheless, Trout had, by far, the best rookie season of any hitter since 1900. At just 20 years of age, he led the league in OPS+ (168), runs (129) and stolen bases (49). And it wasn't just a great rookie campaign; it was one of the best seasons by any player, period. Trout's 10.8 WAR that year is tied for 16th all-time among position players not named Babe Ruth.
Seager certainly won't match Trout's first-year production this season, but he is already right up there among the best rookie shortstops the game has ever seen.
With legends like Alex Rodriguez, Derek Jeter, Cal Ripken and Ernie Banks manning the position in the past, that says quite a lot about how exceptional Seager's season has been.
* Specifically, per MLB eligibility rules, a player is considered a rookie if he has previously a.) had no more than 130 at-bats or 50 innings pitched at the big league level or b.) spent no more than 45 days on an active roster during any 25-player limit periods.
Unless otherwise noted, all stats above are from Baseball Reference through games of September 16, 2016.
(Photos: Lofton by Jerry Reuss, Pujols by SD Dirk, Seager and Piazza by Arturo Pardavila III, Tulowitzki by jkonrath, Suzuki by Derral Chen, Trout by Keith Allison)