Marco Estrada, One of Baseball's Slowest Pitchers, Yields Fewest Hits
This article appeared in The Wall Street Journal on August 2, 2016.
When it comes to hits allowed, baseball's stingiest starting pitcher has played for three teams in nine MLB seasons and, at 33 years old, has a total of just 42 career wins.
Perhaps even more surprising, he's one of the softest-throwing starters in the game.
Before coming to Toronto from Milwaukee via a trade in November, 2014, Marco Estrada was 23-26 with a subpar 93 ERA+ (a measure of ERA, adjusted for ballpark factors, where 100 is the league average). Since joining the Blue Jays, however, he has been a completely different pitcher.
Over the last year-and-a-half, Estrada is 19-12 with a much-improved ERA+ of 132. Opponents have hit just .195 against him during that time.
This season, he was selected to his first All-Star game and his .181 batting average against (BAA) leads all of baseball (before you ask, Clayton Kershaw's BAA is .185).
Estrada is on pace to become just the third American League pitcher—joining Nolan Ryan in 1991 and Pedro Martinez in 2000—to surrender fewer than six hits per nine innings (H/9IP) since the advent of the designated hitter in 1973.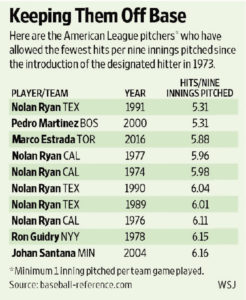 If you're thinking this year is a fluke for Estrada, he led the A.L. in H/9IP in 2015, as well. In fact, among active Major League starters with at least 800 innings pitched, Estrada yields the fifth-fewest career H/9IP, trailing Kershaw, Jake Arrieta, Chris Sale and Stephen Strasburg.
While most of the game's great pitchers who have been tough to hit are known for mid-90s fastballs or hard-breaking sliders, Estrada is able to retire batters at a historically high rate while averaging only 88.2 mph on his fastballs this season. That ranks 85th among the 93 qualifying MLB starting pitchers, according to FanGraphs.
His effectiveness can be attributed to a heavy reliance on his change-up, which he throws on a league-high 29% of his pitches. The differential between Estrada's fastball and change-up speeds is an impressive 11 mph; only teammate R.A. Dickey and the Dodgers' Scott Kazmir have a larger spread among starters in 2016.
Most hurlers start to lose velocity about the time they reach Estrada's age. For him, it may not matter if batters keep chasing his change-up.