The Texas Rangers May Be History's Most Illogical Team
This article appeared in The Wall Street Journal on July 28, 2016.
Though the Texas Rangers sit atop the American League West, the path they've taken there has defied more than a century of baseball reason.
Texas is on pace to become the only team during a non-shortened season in baseball history to win a division while having a losing record against sub-.500 teams. In fact, since 1900, no team with a winning record has had a larger differential between their winning percentage against opponents that are at least .500 and those that are below .500.
Through Tuesday's games, Texas is an MLB-best 43-24 (a ridiculous .642 winning percentage) against teams currently .500 or above. If they had been able to maintain that rate of winning against sub-.500 teams to this point of the season, they'd have a nearly insurmountable 9½ game lead over the second-place Houston Astros.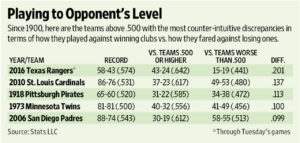 Incredibly, however, while the other five division leaders in baseball this season have each won at least 63.4% of their games against teams below .500, the Rangers have managed to win only 44.1% of the time against losing opponents. Of the five teams they've faced this season that are currently below .500, Texas only has a winning record against one of them (2-1 vs. the Kansas City Royals).
So does this suggest the Rangers are really good, or really bad? They have been dominating the best teams in the league thus far, but they should not be confident about maintaining that trend. There's evidence that the success they've enjoyed this year can be at least partially chalked up to luck. Texas' 21-7 record in one-run games (including 17-4 against winning teams) appears to be unsustainable. In fact, at .750, their winning percentage in such contests would trail only the 2012 Baltimore Orioles (29-9, .763) in a non-shortened season since 1900, according to Baseball Reference.
Texas's good fortune in close contests has resulted in them having won seven more games than their expected Pythagorean Win-Loss record (a ratio based on a team's runs scored and allowed); no team has had a larger discrepancy since the aforementioned 2012 Orioles.
If the Rangers are going to contend for a title in 2016, they're going to have to start beating the teams they're supposed to. Collectively, the 111 World Series champions have won 66.9% of their games against sub-.500 teams.
On June 28, the Rangers had the most wins in all of baseball and enjoyed a comfortable 10-game lead in their division. Since then, they've won only seven of 23 games, including just three of 12 against the lowly A's, Angels and Twins. It seems the Rangers' luck may be already running out.