Yeah, But What If EVERYTHING Goes Right For The Knicks?
This article appeared in The Cauldron | Sports Illustrated on July 25, 2016.
In yet another in a series of seemingly endless attempts to shift into "win-now" mode, the New York Knicks successfully added some big names to the roster this summer. Most notably, 2011 NBA MVP Derrick Rose was acquired in a trade, and the team subsequently signed free agents Joakim Noah, Courtney Lee and Brandon Jennings. With Carmelo Anthony and rising star/unicorn Kristaps Porzingis already in place, the general consensus among NBA fans is that the Knicks might be a dominant team.
If it was five years ago.
Rose? He doesn't necessarily agree: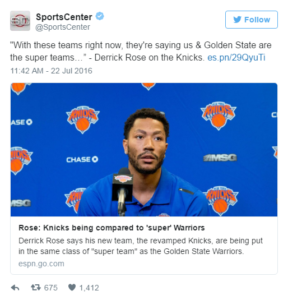 So, how good can this team be in 2016–17? When assessing the possible outcomes of the Knicks' upcoming season, there seem to be two popular, divergent views:
1.) The roster is now loaded with big names who, if healthy, should facilitate a vast improvement over last year's club that finished 18 games under .500.
2.) The roster is littered with so many injury risks that there is little chance the Knicks will stay healthy enough to field a competitive starting lineup.
There's a third option, though, that is perhaps more likely than either of the aforementioned:
3.) The players Jackson has acquired just aren't very good anymore. Even if reasonably healthy, they will provide, at best, a minimal bump over last year's disappointing team.
THE GOOD
Getting Easy Shots
On the court, Rose provides the Knicks with a point guard who is nearly the exact opposite of last year's starter, Jose Calderon. Where Calderon thrives is his three-point shooting; he's made a little over 41 percent of his career attempts, while Rose has made just 30 percent of his (more on this later). For their careers, Rose has taken nearly 3.4 times more free throw attempts per game than Calderon. It's this ability to get to the free throw line (if it still exists in bulk) that will bring a new element to New York's offense. Calderon wasn't the only Knick guilty of being a jump shooter; his backcourt teammate, Arron Afflalo, took only 11.5 percent of his field goal shots inside of three feet from the rim last year, the lowest percentage of his career.
Besides getting to the charity stripe himself, Rose will draw defenders to him when he drives to the basket, which will set up open looks for guys like Anthony, Lee and Porzingis along the perimeter.
Defense
Rose has never been known for playing defense very well, but his presence in the lineup should be an improvement on that side of the ball over what Calderon was giving the team. For whatever it's worth, Rose has played in only 55 percent as many games as Calderon has during their careers but the ex-Chicago Bull has nearly 40 percent more Defensive Win Shares (DWS) than the Knicks' former starting point guard.
Likewise, Lee has a similar statistical advantage over Afflalo. The big edge defensively for the 2016–17 Knicks, however, is Noah, if he's healthy. In roughly the same number of career games, he has three times as many DWS as last year's starting center, Robin Lopez.
Coaching
Last year was Derek Fisher's second as an NBA head coach, and he didn't last the season. He had trouble with in-game management, mishandled several end-of-game situations, and several players were frustrated with his rotations.
The team turned to Kurt Rambis, who like Fisher, had a previous association with Jackson, and also like Fisher, didn't coach very well. The team ended the year with a 9–19 record under Rambis, who went 32–132 as the head coach in rebuilding Minnesota several years ago.
Enter Jeff Hornacek. In 2013–14, during his first year as an NBA coach, he took a 25-win Phoenix Suns team and led them to a record of 48–34. So he's proven he can turn a franchise around, and that is exactly what the Knicks are hoping he can do during the upcoming season. It's yet to be seen how the Knicks' players will perform in Hornacek's up-tempo style of play, but it's clear that this is an area of improvement for the franchise.
So, New York is going to be a lot better, right? RIGHT?!
At first glance, New York's roster seems to be much improved. They should be able to take advantage of Rose's style of play to get better shots. As a unit, the Knicks' defense should be improved, even if only by a small margin. And they actually have a head coach who has had some prior success with quickly improving a team's win total. But there are issues with this year's club that didn't exist a year ago.
THE BAD
Shooting
In 2015–16, the knock on New York was that it couldn't defend well. However, while the Knicks were a mediocre 18th in the league in points allowed per 100 possessions, they ranked even worse (25th) in points scored per 100 possessions.
Playing great defense and rebounding the ball well will always be important elements in basketball. However, if there has been one component of the game that has skyrocketed in value in recent years, it's the ability to shoot the ball efficiently.
Teams are utilizing smaller lineups and plugging in players who can extend opposing defenses by knocking down threes. Stephen Curry, the face of this recent trend, is coming off a season in which he led the league in scoring, three-point shooting and free throw percentage (and steals, for good measure) en route to the first unanimous MVP in league history.
For the fourth straight year, at least 12 of the league's top 15 teams in True Shooting Percentage (TS%) made the playoffs. The top four — Golden State, Oklahoma City, San Antonio and Cleveland — were considered to be the four best teams by most observers. Yet, in a league where efficient shooting has become synonymous with winning, Jackson has curiously replaced three-fifths of his starting lineup with players who are worse shooters, as measured by TS%. Noah (.541 career TS%) replaces Lopez (.576) at center, Rose (.519) takes over at the point for Calderon (.575), and Lee (.546) will start at the two-guard after Afflalo (.557) opted out of his contract.
Rose, in particular, was 25th in the league in field goal attempts per game in 2015–16, but 254th out of 274 players (min. 1000 minutes) in TS%. That is a disastrous combination under any circumstance, but particularly in the current NBA environment. The anticipated decline in the Knicks' shooting efficiency is even more alarming, given they were already near the bottom of the league (24th) in TS% as a team last year.
Health
There is a lot of pessimism surrounding the Knicks' current roster's ability to remain healthy over the course of a season. Several new players on the team have missed extended periods of time during their careers due to injury.
In the five years since winning the league's MVP, Rose has had three knee surgeries and played an average of only 33 games per season. Last season's 66 games were the most he has participated in since 2010–11.
Noah only played in 29 games last year. Though he may be fully recovered from the shoulder surgeries that ended his season, he has never proven he can consistently stay healthy. Since 2009, he has only appeared in at least 70 games once.
Jennings tore his Achilles tendon 18 months ago and was able to return to the court for the second half of the 2015–16 season. Prior to the injury, he played in 95 percent of his team's games. However, tendon tears can be tough to fully overcome, and Jennings is just 48 games into his post-torn achilles career.
The Knicks don't have much depth if any of the above players go down for an extended period of time. Jennings is Rose's backup and the team doesn't have an experienced center in place to back up Noah, should he get hurt. Porzingis will play some at center either way, but the Knicks still seem a bit thin in frontcourt quality given the overall health risk of Noah (and modestly with Porzingis, who wore down in the second half of his rookie campaign).
Team Makeup
Jackson pulled the trigger on a trade to bring in Rose after stating just months prior, "Chasing a point guard, where it becomes just an obsession isn't necessary. It's not necessary. We can play the game without that." Rose only has one year remaining on his deal, so his addition to the team may be viewed as a relatively low risk, but is he a good fit for his new club?
The Knicks' president won 11 NBA championships while coaching teams led by two of the greatest shooting guards the league has seen: Michael Jordan and Kobe Bryant. His starting point guards on those 11 title teams? John Paxson, B.J. Armstrong, Ron Harper, Derek Fisher and Lindsey Hunter, none of whom was ever among the top 20 point guards (min. 1000 minutes) in Usage Percentage (USG%) during their title years, and only Armstrong was ever in the top 30.
Rose, on the other hand, was 10th among NBA point guards with a 27.3 USG% last year and was one of the top two PGs in that stat during every other season he's played except his rookie campaign (2008–09). It doesn't seem plausible that the Knicks will be able to maximize the performances of both Rose and Anthony (another high usage player, at 29.7% last year), while also trying to get their young star, Porzingis (24.6% last year), even more touches as he continues his development.
Another obstacle the Knicks will face this year is trying to replicate the production lost when reserve forward, Derrick Williams, opted out of his contract. After acquiring Rose, Noah and Lee, the Knicks were left with very little cap space and let Williams move on to the Miami Heat. Jackson got creative and found a cheaper replacement in 6-foot-9 forward Mindaugas Kuzminskas out of Lithuania. Scouts have claimed he has a similar skill set to that of former Knick, Danilo Gallinari, who has had a very solid NBA career (when he's been healthy).
Since being drafted No. 2 overall in 2011, Williams had never lived up to expectations. The Knicks were his third team in five seasons, but his year in New York was by far his best to date. Per 36 minutes, Williams averaged 18.7 points and 7.4 rebounds, while posting career bests in assists (nearly one a game), TS% (.550) and Player Efficiency Rating (17.2).
Now, the Knicks are hoping a soon-to-be 27-year-old undrafted rookie will be able to duplicate Williams's solid season. Kuzminskas averaged just 8.3 points, 2.9 rebounds and 0.8 assists over 221 professional games in Europe. When asked about his new reserve small forward, Jackson stated, "He represents a player who's probably going to take acclimating to the NBA." Matching Williams's 2015–16 output in his rookie season is probably too much to ask of the neophyte European.
Aside from the starting lineup's decline in shooting efficiency and question marks surrounding Kuzminskas as a key reserve, it will take time for New York's new roster to get on the same page and play cohesively. There is a new head coach, a new center, a new starting backcourt and a new sixth man.
In 2010–11, LeBron James and Chris Bosh replaced Quentin Richardson and Michael Beasley on a Miami team that had won 47 games the prior year. The massive upgrade in talent took a few weeks to translate into victories; the team started its first season together 9–8. The Knicks' recent additions are not as good as James and Bosh, and they're certainly not coming off a 47-win season.
When LeBron returned to Cleveland two seasons ago, he teamed up with Kevin Love and Kyrie Irving to bring the Cavs to their second-ever NBA Finals appearance. Their season began, however, by losing seven of their first 12 contests.
Generally, with the very glaring exception of the 2007–08 Boston Celtics, who began their Pierce-Garnett-Allen days by starting 29–3, it takes time for a new core of players to get on the same page. The Knicks don't have the talent to overcome a slow start to their season and still qualify for the playoffs. Ultimately, if the Knicks want to have a good year, stumbling out of the gate is not an option.
THE UGLY
Expected Wins
Given all of the above, what can Phil Jackson's squad realistically achieve this year? Some TV talking heads proclaimed that the Knicks are back and that they are capable of being a top-four team in the Eastern Conference.
For a little perspective, top-four seeds in the Eastern Conference have all reached at least 48 wins in each of the past four seasons. So to contend for home court in the first round of the playoffs, New York would need a 16-game improvement over last year's win total.
Still, even if everything goes right next season, 48 wins represents a pretty unrealistic outcome for this team.
During the 2015–16 NBA season, the Knicks went 32–50 and compiled 34.9 Win Shares (WS) collectively from the players on their roster. By comparison, across the entire league last year, 23 of 30 teams (76.7 percent) had a smaller margin than the Knicks' 2.9 wins. The median absolute value of all teams' margins was a mere 1.5. As such, while not a perfect representation of value, WS are a fairly good estimate of each player's contribution to his team's record and can be an important tool in predicting a team's success — or lack thereof.
Anthony has averaged 8.4 WS per 82 games played over the course of his entire career. He set a career high in assists with 4.2 per game last season, assisting on 21.9 percent of his teammates' FGs while he was on the floor (fourth-best among small forwards). Melo also pulled down an impressive 7.7 rebounds per game (second among small forwards behind Kevin Durant). However, he is already 32 and has seen his minutes per game decrease in each of the past three seasons. His 21.8 scoring average last year was his lowest since he was a 20-year old, second-year player with the Denver Nuggets. Further decline, even with the influx of off-season talent, should be expected. However, as a best-case scenario, start him off with his typical 8.4 WS.
By just about any measure, Porzingis had a fantastic rookie season. Expected to be a project coming out of the 2015 NBA Draft, he averaged 14.9 points, 7.3 rebounds and 1.9 blocks on his way to a second-place finish in the Rookie of the Year voting. At times, Porzingis was completely dominant; he posted 21 double-doubles, including a game in Houston in which he had 24 points, 14 rebounds and seven blocked shots. The soon-to-be 21-year-old Latvian may be the one player on New York's roster who can improve upon his career numbers. Following a rookie year in which he impressively accumulated 4.3 WS, it isn't at all unreasonable to expect Porzingis to finish the upcoming season around 7.0 WS.
Even the most optimistic Knicks fan expecting Rose and Noah to play often must acknowledge that it's highly unlikely that they will perform to their career averages. Last year, the duo combined for 1.5 WS, or 3.6 WS per 82 games. That level of production represented a 75 percent decline from their cumulative career average of 14.5 WS per 82 games. And while they may end up with more than a total of 3.6 WS between them in 2016–17, they won't come close to 14.5. To do so, they'd have to average 7.3 WS apiece, which is roughly in line with what Andre Drummond and Anthony Davis produced a year ago. Going back two years, Rose and Noah put up 8.8 WS per 82 games, which was certainly better than their performance last year, but still 39 percent worse than their career average. So, even if you dismiss last year entirely and assume Noah is fully healed from his shoulder surgeries, the ex-Bulls would be good for 8.8 WS.
On a team with high-usage players such as Anthony and Rose, Lee should make for a great complementary player. He will never take over a game (the 18 points, seven rebounds and six assists he had in a game against Chicago last year all represented season highs), but doesn't need the ball in his hands to be an effective player. Over the years, Lee has consistently shot the ball well when called upon (38.4 percent on three-pointers over his career) and he is an above-average defender. It's reasonable to expect him to maintain his career rate of 4.1 WS per 82 games.
Compared with his past seasons, Jennings will have a reduced role in New York. Prior to his devastating injury, he was a solid point guard for five-plus seasons with Milwaukee and Detroit, averaging 16.6 points, 6.2 assists and 5.3 WS per 82 games while playing 33.9 minutes a night. After posting just 6.9 points and 3.5 assists per game upon his return last season, it seems unlikely that Jennings will match his regular career numbers this year, especially since he'll be coming off the bench. (Then again, how likely is it that Rose will stay healthy all year?) Last year, the Knicks' top reserve guard, Langston Galloway, played 24.8 minutes per game off the bench. If Jennings averages that amount of time on the floor and is somehow the player he was prior to his torn Achilles, he would produce 3.9 WS.
It's virtually impossible to project how Kuzminskas will fare during his first NBA season. As mentioned earlier, it's probably not realistic to assume an easy adjustment for him, but in an effort to continue with an optimistic outlook, give him Williams's 3.6 WS.
The rest of the Knicks' 10-man rotation remains the same from 2015–16: Sasha Vujacic, Lance Thomas and Kyle O'Quinn. Those three players combined for 4.4 WS and, unless there are significant injuries to the starting lineup, there's no reason to think that number will change much this season. The remainder of the Knicks' bench from a year ago combined for 0.4 WS — a contribution that shouldn't change drastically — for a total of 4.8 WS.
That gives the Knicks a total of 40.6 WS for the upcoming season. However, the numbers listed above for the starting lineup and Jennings are based on a per-82 game basis. In Lopez, Galloway and Williams, the Knicks lost three players from last year's team who each played at least 80 games. Conversely, the only player on the 2016–17 Knicks' roster to have missed fewer than 10 games in either of the past two years is Lee. Surely, an adjustment, even if conservative, should be made.
Over the course of their careers, Rose has missed 37 percent of his team's games and Noah has missed 21 percent. While it may be folly to assume Anthony, Rose, Noah and Jennings will miss a lot of games — as each of them has in recent years — it is fair (and maybe even optimistic) to project those four to average 72 games played. Given that, we can expect a 12 percent decrease in court time for the quartet from their 82-game WS rates, which would knock the Knicks' WS down to 38.0.
So where does that leave us? For all the hype surrounding the Knicks' off-season moves, are they really any better than last year?
With a roster full of players who are either in decline from their peak years (Anthony), coming off major injuries (Jennings), still trying to recover from prior major injuries (Rose) or a combination of all of the above (Noah), expecting a mostly healthy and productive season seems like a stretch — and that still yields just 38 expected wins. Suddenly, New York's relatively modest goal of improving — never mind making the leap to a top-four seed in the Eastern Conference — seems tenuous at best.
Source for all statistics above: basketball-reference.com