In The Playoffs, No One Sings The Blues Like St. Louis
This article appeared in The Wall Street Journal on May 22, 2016.
Everyone knows that the Chicago Cubs have one of the most woebegone histories in all of sports. The team is mired in a championship drought that stretches back more than a century and it's been 71 years since their last World Series appearance.
But as cruel as it's been to root for the Cubs during that time, there's one franchise that has suffered through what may be an even more wretched run of futility: The St. Louis Blues.
While the Cubs have finished more than 10 games out of first place a whopping 59 times since losing the World Series to the Detroit Tigers in 1945, the Blues have qualified for the playoffs in 40 of the 48 seasons (83%) since they were established in 1967, only to have their hopes crushed every time.
Among North American sports franchises, only the Montreal Canadiens (92%), San Antonio Spurs (90%) and Los Angeles Lakers (88%) have reached the postseason more frequently than the Blues. Montreal, of course, has won 25 championships, second only to the New York Yankees within the four major sports. The Lakers have won 16 titles, while the Spurs have five championships since 1999. The Blues, on the other hand, have never hoisted the Stanley Cup.
Coincidentally, in the Western Conference finals, St. Louis happens to be facing a team with a similar track record. Since they joined the NHL in 1991, the San Jose Sharks have reached the playoffs 75% of the time, the second-highest rate among teams to have never won a championship. The Sharks, however, have only been in existence for half as many seasons as their current opponent. Among pro sports franchises without a title, only the NFL's Atlanta Falcons and Minnesota Vikings have been around longer than the Blues.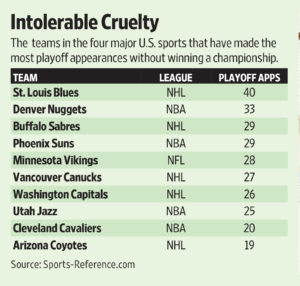 For long-suffering St. Louis fans, there are signs that the Blues' tortured streak could finally come to an end this year. They have won 10 postseason games for the first time in 30 years and have already defeated perhaps their two toughest potential obstacles on the way to their first-ever Cup: the defending champion, Chicago Blackhawks, and the conference-leading Dallas Stars. Looking ahead, they would enjoy home-ice advantage over whomever they face in the Stanley Cup Finals.
With their current series against the Sharks tied at 2-2 and needing just six more wins to make history, St. Louis is in its best position in a long time to erase what has become four decades worth of playoff heartache.