NBA Playoffs Spoiler Alert: The Team Wearing White is Going to Win
There's a memorable scene in the movie, Hoosiers, when Hickory's basketball team is immediately overwhelmed by the size of the arena in which they are about to play the State Finals. Coach Norman Dale hands one of his players a measuring tape and instructs the team to determine how far the free throw line is from the basket and how high the rim hangs above the floor. With a wry smile, he exclaims, "I think you'll find it's the exact same measurements as our gym back in Hickory."
He was right, of course. There is no discernible home court advantage in basketball, other than perhaps crowd noise, comfortable surroundings and favorable calls from referees. But those are edges found in baseball, hockey and football, as well. Unlike basketball, though, home teams in those other sports have very tangible advantages over their opponents.
In baseball, the home team is able to bat last; a distinct edge in late-game strategy. MLB and NFL franchises often build their rosters to complement their stadium's dimensions (baseball) or weather conditions (football). Home teams in hockey have two important benefits; getting the last line change after each whistle and being able to put your stick on the ice last during face-offs (a key advantage, as 12 of the 13 Stanley Cup winners (92.3%) since 2000 won at least half their face-offs during the regular season).
There is no such benefit for home teams in the NBA. Every court is 94 feet long and 50 feet wide. Baskets are 10 feet high in every arena. Weather doesn't play a factor, both teams may substitute players freely and jump balls are, well, literally toss-ups.
And yet, basketball teams not only possess the highest home winning percentage among the four major sports, but that rate jumps in the playoffs to nearly 68% since 2005-06. For 18 straight seasons, the team with home court advantage in a given NBA postseason series has advanced at least two-thirds of the time. The last time the NFL experienced even two such seasons in succession was following the 2002 season. Of course, that's more than what has occurred in the MLB and NHL; neither has had two straight years like that during the entire 18-year run by the NBA.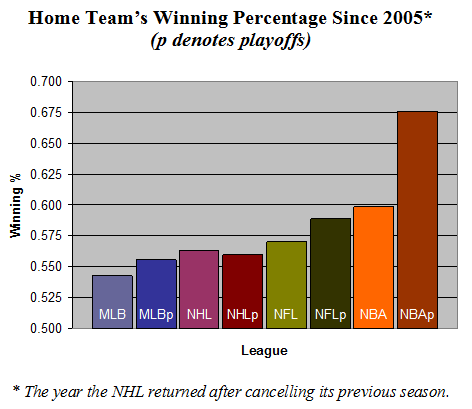 (photo by Rico Shen)